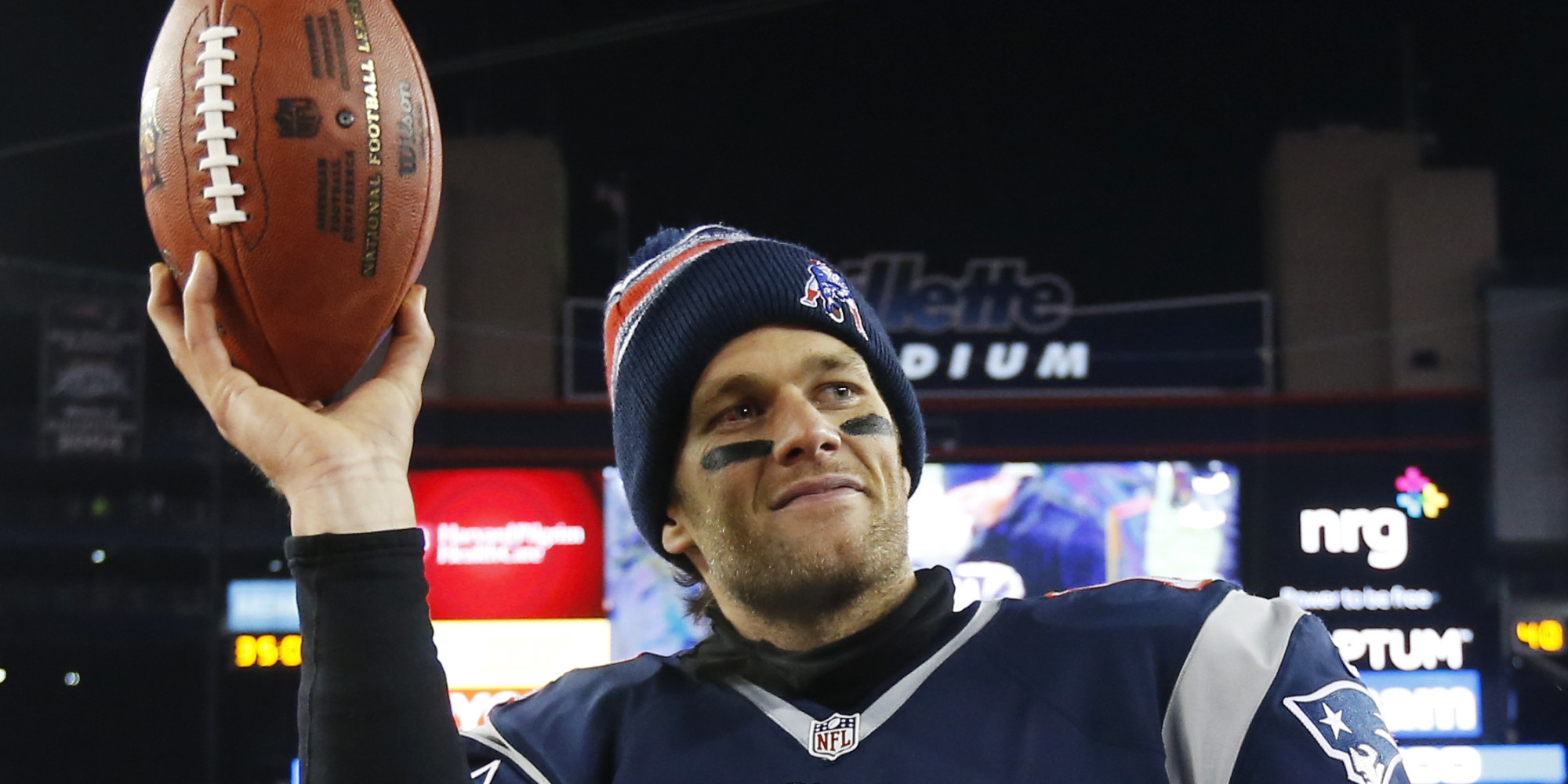 Conference Championship Sunday is maybe my favorite day in all of sports. You have the four best teams in football, none of which have the advantage of coming off a bye week, all of which are eager to play in the biggest game of the year. You have passionate fan bases, unfriendly winter weather, and players exhausted to their core after playing the most grueling sport for five straight months. But at the end of the day, you have two teams full of smiles, high-fives, Gatorade showers, and countless "Is this really happening?" expressions on player's faces. It's only the next day when you wake up and realize you have 13 grueling and anxiety-ridden days until the actual Super Bowl is played – just enough time for the unnecessary glorified publicity stunts witch hunts.
New England Patriots at Denver Broncos (+3½)
Sunday, January 24, 3:05pm EST, CBS.
We think we know everything about Brady-Manning XVII, but if you look more closely at the recent history of this celebrated matchup, it becomes clear that the past doesn't tell us a whole lot. For example, most of the talking heads this week have mentioned how Tom Brady is 11-5 lifetime (including the playoffs) against Peyton Manning. True enough, but because Brady won the first six matchups, that statistic is misleading; since the beginning of the 2005-06 season, Manning actually leads the series 6-5 and is 2-0 in playoff games.
Even the most recent Broncos-Patriots matchups are difficult to put into perspective for this week. Everyone remembers the November 29 hatchet job by the refs hard-fought victory by the Broncos, but let's not forget that Julian Edelman and Danny Amendola did not play for the Patriots, while Dont'a Hightower and Rob Gronkowski suffered game-ending injuries prior to New England blowing a 14-point fourth quarter lead. It's also worth remembering that Denver's comeback was engineered not by Manning, but by Brock Osweiler.
And then there's the 2013 AFC Championship game played two years ago, when Manning was coming off the greatest statistical season in NFL history and instead of a healthy Gronkowski, Brady had Austin Collie. The Broncos only scored 26 points, but it was one of the worst defensive performances I've ever seen from a Bill Belichick-coached team. Manning was unstoppable that day, going 32/43 for 400 yards, and the Broncos scored on six of their eight possessions (they punted on their first, they kneeled the ball on their last).
The 26 points in that game were lucky – Denver couldn't punch the ball in the red zone, and was forced to settle for field goals. This time around, the Broncos scoring 26 points will also be a triumph of luck, but for the Denver offense, not New England's defense. Denver's offense looked predictably abysmal last week against Pittsburgh, with receivers dropping wide open passes, Manning lofting throws over receivers' heads, and the team proving to be utterly worthless on third down conversions (3 for 15). True, they did not turn the ball over as many people suspected they would, but needed a late-game fumble by a 4th-string runningback no one had ever heard of in order to take back the lead and eventually put the game away. Kind of like how back in November, they needed a late-game fumble by a punt returner no one had ever heard of (and no one has heard of since).
The Broncos thrive on opposing teams' mistakes. Including last week, Denver is now 12-1 in games where they force at least one takeaway. They're also 13-1 in games allowing 24 points or fewer, and 9-2 in games allowing 230 passing yards or less. Now let's consider New England: They led the league in fewest giveaways (14), they scored at least 24 points in all but three of their games (and every game that Julian Edelman was in the lineup), and Brady threw for 230+ yards in 15 of his 17 games. In other words, New England's offense capitalizes on the very things the Denver defense prides itself on.
Of course, many have asked the question of how New England plans on mounting any semblance of a ground game against the Denver defense. Curiously, the Broncos' two best games against the run (Week 14 vs. Oakland and Week 15 at Pittsburgh) were both losses, but because the Broncos aren't the Colts, New England will probably not run the ball much this week anyway. But running the ball isn't really a priority; in games where the Patriots throw for over 270 yards, they are 10-1. Conversely, when the Broncos throw for over 270 yards, they are a modest 5-3.
The 26 points stat is a good one because I don't really believe the Broncos can score that many points – at least, not with Peyton Manning at the helm and not with a healthy Patriots' defense. To be sure, there are a lot of unpleasant things for Patriots fans about the prospect of playing in Denver: Namely, Brady's lifetime record there (2-6); the fact the only quarterbacks New England has defeated in Denver were Tim Tebow and Danny Kanell; the weather forecast (mildly overcast and upper-40s, as opposed to the 30 degree snowstorm conditions in Foxboro); Manning's record in AFC championship games since 2005 (3-0); and the fact that no fourth quarter lead will be safe as a result of our inability to run the ball.
But as a Patriots fan, I do not worry about the one thing that I've always worried about in the storied Brady-Manning rivalry, which is Peyton systematically tearing up our defense. Want an absurd stat? Two years removed from throwing 55 touchdowns in a single season, Peyton Manning has thrown a grand total of one touchdown in Denver all season, including last week. Granted, he missed seven games due to "injury," but one touchdown?? Brady had three touchdowns in Denver minus his top two wide receivers. As per usual, Manning is blessed with two of the top receivers in the league (Demaryius Thomas and Emmanuel Sanders), but both were bottled in in the November 29 game until they each caught 35+ yard passes in the game's final 2:30. The recipe for Denver is simple: Rely as little as possible on Manning's throwing arm. Run the ball down New England's throat. Pick up third-and-shorts and score touchdowns rather than field goals. Limit Edelman and Gronkowski, while putting constant pressure on Brady. Follow the advice of Cam Newton last week and start running the clock down in the first quarter.
Do I believe the Broncos can do those things? Maybe. I've been surprised all year how Denver is able to pull victories out of their ass while looking completely inept. But even when everything fell the Broncos' way on November 29 (the blown lead, the turnovers, the officiating, the in-game injuries, and the fact that it was Osweiler at QB rather than Manning), the Patriots still ended up scoring 24 points and forcing overtime (while never touching the ball in OT). If you're taking Denver in this game, you believe that their man-on-man, blitzing defense can hold Brady and company under 20 points, which no team has done all year with Edelman in the lineup. You also believe that Peyton Manning can throw touchdowns (which he hasn't done) and that the ground game will repeat its performance on November 29 (except this time against a healthy Dont'a Hightower). In other words, you hope for miracles, which Denver has admittedly had plenty of in 2015. But at some point, luck runs out and the better team takes care of business.
Prediction: New England 27, Denver 17
Playoff Doppelganger:
2004 AFC Championship, New England 41, Pittsburgh 27. The Steelers had a great defense but problems at QB (a shaky rookie rather than a grizzled veteran who requires HGH nothing more than leadership and faith). The defending champion Pats had gone into Pittsburgh earlier in the year lost badly; this was their revenge game. It's difficult to expect the one-sidedness that that game quickly turned into, but going into the game, there were few people that ever truly doubted the result.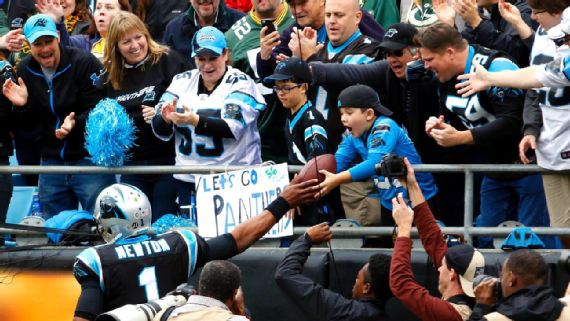 Arizona Cardinals at Carolina Panthers (-3½)
Sunday, January 24, 6:40pm EST, Fox.
See if you can answer this simple question. Last week, Quarterback A went 25 of 41 for 349 yards and three touchdowns. Quarterback B finished 16 for 22 for 161 yards, one touchdown, and carried the ball 11 times for three yards. So which quarterback had the better week?
Of course, by this point you should know that Quarterback A is Carson Palmer and Quarterback B is Cam Newton, and it's not really a fair question since both teams won their games and both offenses are designed differently (as well as the convenient omission that Quarterback A threw two bad interceptions). But hopefully, the point is clear that many football statistics are deceptive. For example, anyone who watched both quarterbacks last week would know that Cam looked considerably better, calmer, and more confident than Palmer. Maybe it's easier to play that way when you're spotted a 31-point lead.
In any event, it's now officially time to start worrying about Carson Palmer's finger, no matter what the team and its former superstars are saying about the extent of his injury. Or to put it another way: Given how bad several of his passes were last week, would it be any real consolation to Arizona fans if they found out Palmer wasn't injured? Then he's just jittery, unproven, and bad at making decisions in crunch time – and all this against a mediocre Green Bay secondary at home. More worrisome statistics from last week's game: Between 6:48 in the first quarter (when Palmer threw a touchdown to Michael Floyd) and 3:44 of the fourth quarter (Floyd's second receiving TD), Arizona mustered a grand total of 3 points, along with two punts and two interceptions. David Johnson was ineffective on the ground all game (15 carries for 35 yards), and even though the Packers were extra sinful and needed two Hail Marys to force overtime, the Cardinals' secondary still gave up 200 combined receiving yards to the uber-Caucasian combination of Jeff Janis and Jared Abbrederis.
If you're a Cardinals fan, you try your darndest to invoke the magic of the 2008 team (God, puppies, and Pakistan) and remember that the best receiver on the field this Sunday will be Larry Legend who, in his eight postseason games, has amassed an unreal 53 receptions for 912 yards and 10 touchdowns. You can also still revel in the fact that in his four postseason games, Cam Newton still hasn't had "that" game – you know, the one where he throws for 350 yards, 4 touchdowns, and 50 yards on the ground for an overtime win. Actually, maybe that's a bad omen if you're rooting for Arizona this weekend. But in any event, Carolina's two playoff victories under Cam (one of which came last year against the Ryan Lindley-led Cardinals) have required very little from their quarterback. And in case you forgot, the Cardinals still have an outstanding defense, while the Panthers still have Ted Ginn, Philly Brown, and Jerricho Cotchery.
But I like Carolina in this game for reasons more than just Arizona's shortcomings last week. I believe Carolina and Seattle were the two best teams heading into last weekend, and we all saw the damage the Panthers are capable of reeking when putting their foot on the gas pedal. Many thought Riverboat Ron was not deserving of his nickname last week when he opted to start running down the clock in the first quarter, but technically, such a conservative strategy was still pretty risky knowing the Seahawks' flair for second-half comebacks (in case you don't believe me, just ask Mike McCarthy). Cam occasionally looked frustrated at being bottled up, but the Panthers looked comfortable taking care of business on third down and did indeed rush for 144 yards against the vaunted Seattle defense. Arizona and Seattle are similar in some areas (such as lack of consistent running game and excellence at home), but different in a few crucial ones: The Seahawks have a mobile, duel-threat quarterback known for his insane improvisation; the Seahawks have had the league's best defense the past four years; and they have been to the Super Bowl the last two. In other words, Arizona feels a lot less intimidating than Seattle.
While I'm weary of statistics, a few do jump out. One is that in its first ten games, Arizona scored 30+ points on seven occasions. In the seven games after that, Arizona has only scored 30+ points twice. The Cardinals will have to score points in order to keep up with the Panthers, who led the league in offense and like the Patriots, scored 27 points or more in all but three games. The Panthers obviously thrive off the run, but in the three games where Arizona has given up 140 yards or more on the ground, they are 0-3. Carolina also led the league in most takeaways; Arizona finished 17th in the league in giveaways. Arizona is 10-0 in games where they rushed for more than 115 yards; Carolina only permitted four such games, all of which ended up being Panthers victories.
Bruce Arians is a great coach and Larry Legend is a great receiver, but the Panthers are the league's most complete team. Last week eliminated any doubts about their weak schedule, Cam's playoff credentials, or taking on proven opponents in big games. Like I said earlier, because last week's game was such a blowout early, we only saw a fraction of what they are truly capable of. Cam Newton being held to three rushing yards feels about as unlikely as Carson Palmer pulling a Kurt Warner (with Newton simultaneously combusting into Jake Delhomme).
Prediction: Carolina 30, Arizona 13
Playoff Doppelganger:
2006 NFC Championship, Chicago 39, New Orleans 14. Cam is certainly better than Rex Grossman, but the Bears had the league's most dominant defense and a bruising, effective running game. They controlled the clock, wreaked havoc on the Saints' offensive line, and took care of business one week after eliminating the defending NFC champion Seahawks. On a side note, this is the last NFC Championship Game that was decided by more than 7 points.
Thoughts? Disagreements? Looking forward to a Super Bowl 38 rematch as much as I am? Let me know below!