The last few seasons, the Washington Nationals have been one of, if not the, most talented roster in baseball. However, they really don't have anything to show for it. Will 2016 finally be the year they break through?
Last Season
My 2015 Prediction: 1st in NL East, lose in NLCS
2015 Result: 83-79, 2nd in NL East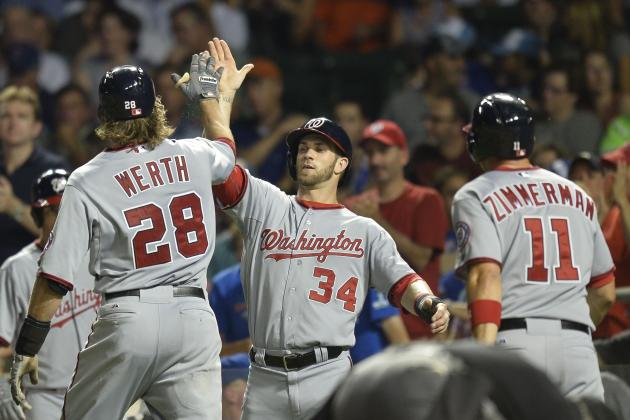 If the games were played on paper, the Nationals would have won the World Series in 2015. Best rotation in baseball, one of the best lineups in baseball. It was a no-brainer. I was a little leery of them, but my conservative prediction had them going out in the NLCS. It was inconceivable that a team this talented doesn't even make the playoffs. Well, they didn't even make the playoffs. This was even with a breakout freak season from 2015 MVP Bryce Harper. They seemed to make all the right moves, including some high-profile trades at the deadline. Nothing seemed to work. With as high as expectations were, 2015 was about as bad of a failure as you can get.
2016 Additions / Subtractions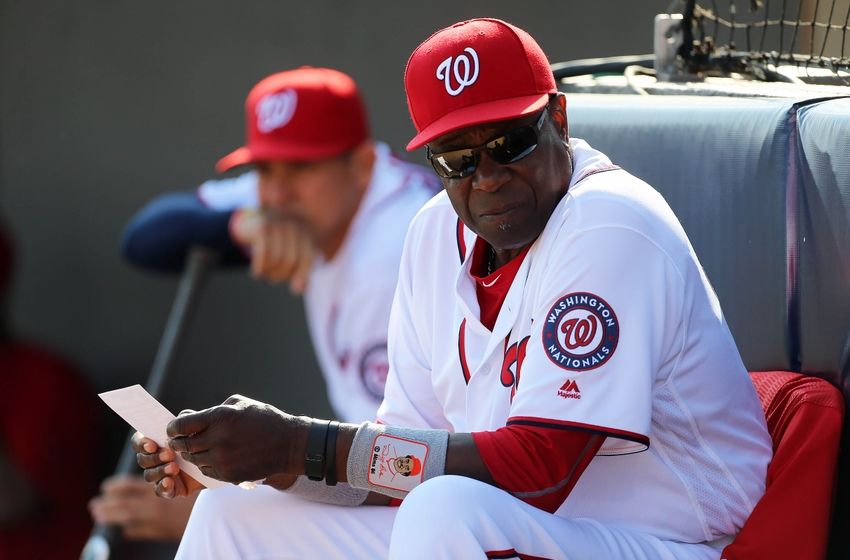 Watching the Nationals over the offseason was interesting. The past few seasons has been all about adding more and more talent to create an All Star Team. This offseason seemed to be more about simplifying. The one high-profile signing was bringing in postseason hero Daniel Murphy from the Mets, however he is, more or less, replacing guys that left life Ian Desmond and Yunel Escobar. They also traded for Ben Revere, solving the drama in the bullpen by sending Drew Storen to Toronto. With that said, this seemed to be an offseason of downsizing and making room for young talent. They let Jordan Zimmermann and Doug Fister leave, as well as Desmond and Denard Span. They have a great farm system. It is about time they let it shine. The biggest move they made this offseason was at manager. They finally fired the overwhelmed Matt Williams (when will franchises learn that hiring a first-time manager to coach a high-profile team never works ... unless you are the Cardinals). To replace Williams, they went in the exact opposite direction by hiring the definition of old school experience, Dusty Baker.
Most Important Hitter
Anthony Rendon
In 2014, Anthony Rendon had a borderline MVP season, which led to a playoff appearance for the Nationals. In 2015, injuries held him to just 80 games as he never really was able to show much production. With the emergence of Bryce Harper, they Nats need a a guy like Rendon to get back to where he was in 2014 to make this lineup as deep and strong as it was in its playoff years.
Most Important Pitcher
Gio Gonzalez
When Max Scherzer was brought in last season, the Nationals' pitching staff was billed as a staff of five (maybe even six) aces. The forgotten member of that group seemed to be Gio Gonzalez, and there was good reason he was forgotten. He had an extremely average season in 2015, and has been fairly average ever since he finished 3rd in Cy Young voting in 2012. However, the Nationals have to count on him heavily as the only lefty in their top six or seven starting pitchers. He isn't that old. He needs to have much more productive season to bring the depth back to that rotation.
Player to Watch
Trea Turner
To once again show just how foolish the Padres' spending was last season, let's evaluate a trade. The Padres acquired Wil Myers, some low-level prospects, and a veteran catcher in a three team trade with the Rays and Nationals. That Nationals gave up a couple prospects, including Steven Souza who started all season for the Rays. The key to this is what the Padres gave the Nationals. They sent pitcher Joe Ross (projected to be in the Nationals' starting rotation) and shortstop Trea Turner. Turner was a first round pick that didn't even last 6 months with the team that drafted him. Now, he is the shortstop of the future for one of the most talented teams in the league. Trea Turner is the reason the Nats didn't fight to keep Ian Desmond. Trea Turner should be a top contender for Rookie of the Year in 2016. Another prospect to watch that will no doubt have an impact in 2016 is starting pitcher Lucas Giolito. He is one of the top prospects in all of baseball, but will have to wait for someone to struggle or get hurt before he gets his chance. Turner has an opportunity to start on Opening Day.
2016 Prediction
2nd in NL East
I love every move the Nationals have made this offseason. They are looking much stronger by simply letting their team grow instead of trying to buy a title. They are also in a weak division that really should only be a two team race. With that said, I think they will lose that two team race. They are definitely moving in the right direction again, and Dusty Baker will have them back in the playoffs very soon.
Fearless Prediction
Stephen Strasburg will be traded before the end of the season.
This is quite a long shot, but hear me out. Stephen Strasburg is the final year of his rookie contract, and you can imagine he is looking for someone to pay him (Yankees, are you listening?). After the way he was treated with the whole "innings limit" thing, and the fact they already have one pitcher making $30 million per year in Max Scherzer, it can be assumed he will probably not be returning to the Nationals. Strasburg should be worth more to the Nationals than the compensatory draft pick they will receive when he declines the qualifying offer and signs elsewhere. If all this makes sense, the only logical course of action would be to trade him if they can bring in a haul of talent. Someone just might be desperate enough to do it too, if they need a top-flight starter. I could see this happen even if they are still in contention, if they get pieces that help them now as well as prospects. It would also clear a spot for Lucas Giolito to hop in the rotation and pitch meaningful innings down the stretch. I don't think this will actually happen, but it makes too much sense to not consider a possibility.