This category has not really been competitive in a few years. Octavia Spencer, Melissa Leo, Mo'Nique, and Penelope Cruz were all foregone conclusions after the nominations were announced. This year is no different. Aside from Best Actor and Best Foreign Language Film, this may be the easiest category to predict. Unless there is some flair up gaining steam a la Alan Arkin over Eddie Murphy in 2006, then this category is over.
5. Jacki Weaver – Silver Linings Playbook
Notable awards: none
Notable nominations: none
Case for the Oscar: Clearly, she is the product of the Harvey Weinstein freight train. If Silver Linings Playbook is going to win Best Picture (which I still feel is possible), then she could get swept along with it. She was just nominated two years ago, so clearly she has been able to capture a lot of fans in a relatively short amount of time in American movies. It would be a shock and a little silly if she wins for this movie, but she probably should have won for Animal Kingdom, so maybe this could be a retrospective award. Oh, who am I kidding? She has no shot.
Oscar Doppelganger: Best Actor 2004: Clint Eastwood. After receiving exactly zero mentions throughout awards season, the veteran actor who gave a fairly standard performance gets swept in by the momentum of the film. This surprise should have been the nail in the coffin for all the major categories, but we still thought that it was somewhat of a fluke and didn't read too far into it.
Odds of winning: 125/1
4. Amy Adams – The Master
Notable awards: Chicago Critics, Los Angeles Critics, National Society of Film Critics
Notable nominations: BAFTA, BFCA, Golden Globes
Case for the Oscar: She has now been nominated 4 times in this category in the last 8 years, so at some point she has got to win one. Paul Thomas Anderson has directed several actors to nominations, making them give performances far against type, but only Daniel Day-Lewis has won. She was very popular with critics, but not so much with the major awards. If the Academy wants to give her an award, this would be a fine performance for it. I just think they are going to continue to make her wait.
Oscar Doppelganger: Best Supporting Actress 1962: Thelma Ritter. I have beaten that comparison to death, but here it is again. The movie stood very little chance in retrospect of making it into the Best Picture lineup, but it was still able to add 3 acting nominations that really were just fillers, since the acting categories had such defined frontrunners in other films. She continued to wait her turn after several nominations in this category, but her turn never came.
Odds of winning: 75/1
3. Helen Hunt – The Sessions
Notable awards: none
Notable nominations: BAFTA, BFCA, Golden Globes, Spirit Awards, SAG
Case for the Oscar: She is in one of the indie hits of the year. She is a past winner and very likable. Her performance has been cited as being one of the more difficult to play of the year, and if the Academy wants an emotional speech from someone who won't make the audience want to rip their ears off, then this will be the performance that they will go for. They love a comeback story and giving validation wins, so this could be it. She is going to have to take down a monster performance, but due to the very quiet buzz for her film and snubs in the other categories, it seems unlikely.
Oscar Doppelganger: 1995 Best Actor: Richard Dreyfuss. This was a case of an actor who won early and then really chose weaker projects for over a decade before getting serious again. This validation nomination for a film that underperformed in terms of nominations was stuck behind a couple performances that owned awards season.
Odds of winning: 20/1
2. Sally Field – Lincoln
Notable awards: Boston Critics, New York Critics
Notable nominations: BAFTA, BFCA, Golden Globes, SAG
Case for the Oscar: She is a veteran in one of the main Best Picture contenders. She is a past winner, but hasn't been nominated since her second win in 1984. She has the Oscar scene, and the wife/mother role in a biopic is always a popular one with the Academy. I cannot see her being 3 for 3 at the Oscars, but it is possible that she still has enough fans that she could make it happen. If Lincoln is in for a sweep, then this win would be an early indicator.
Oscar Doppelganger: Best Actor 1976: William Holden. After a couple nominations and one win for one of the generations most popular actors, he had to wait another 24 years before being awarded his next and final nomination for a film that finally gave him another chance to truly show off that talent. He was swept into the category with his immensely popular film, which got several acting nominations and multiple wins, but he really wasn't in the running. He was really overshadowed by his costars.
Odds of winning: 15/1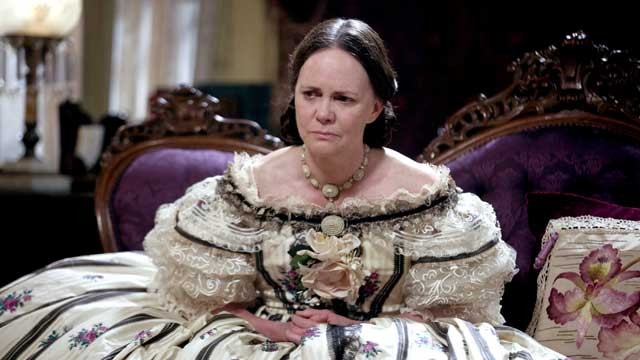 1. Anne Hathaway – Les Miserables
Notable awards: BAFTA, BFCA, Golden Globes, SAG
Notable nominations: none
Case for the Oscar: She is currently on a tear, gobbling up every televised award in her way. Her performance is emotional. She sings. She dies. Oscar loves that stuff. The only thing going against her is how bad her speeches are, which probably cost her all that momentum she had back in 2008. It won't be enough to take her down this year, since the Academy loves musicals so much. When she is not in Oscar movies, she is in terrible movies, which doesn't help her case, but it is somewhat irrelevant. It would be a downright shocker if her name isn't called on Oscar night.
Oscar Doppelganger: 1990 Best Supporting Actress: Whoopi Goldberg. She was in a film that really captured an audience, beloved by some, maligned by others. Her performance was the standout, and despite not much of a showing among critics, she won the important precursors and was an obvious choice for the Oscar. Her past nomination is widely considered the best performance of the year, but was overlooked in favor of an overdue veteran. All of that leftover love was definitely still in play.
Odds of winning: 1/20
Past articles:
Thoughts? Comments? Predictions? Next up: Best Supporting Actor!