Over the next two weeks leading up to the Oscars, I am going to do a series breaking down each major categories individually and giving my own Vegas-style odds for each nominee's chances of winning. Almost all of the relevant awards have taken place, with the exception of the Editing, Sound, Sound Editing, Costume Designers guilds. So if you need help with the
OSCAR CHALLENGE
, my advice is to just check the winners of those guilds over the next week or so and just go with them. Or just take
Life of Pi
in every technical category and the odds are that you will do just fine.
As for the screenplay categories, the Writers Guild of America (WGA), while it has the most member crossover with the Academy, there are always like 10 contending screenplays that are ineligible. They cannot fully be trusted, but they are a decent indicator. Their awards take place on Sunday, February 17th, so some of the odds could be shifted a bit, but they aren't going to completely shake anything up. All Oscar members vote on the winner, not just the writers. Check out my breakdown of the category below…
This category seemed basically decided a couple weeks ago. Now that Argo has steamrolled the competition in every single awards circuit, we have a race. Oh by the way, Silver Linings Playbook took the BAFTA, which has come to mean a lot in the past few years. It feels like the winner of this category will be our Best Picture winner.
5. Beasts of the Southern Wild (Lucy Alibar, Benh Zeitlin)
Notable awards: none
Notable nominations: BAFTA, USC Scripter
Case for the Oscar: The film got so much more love from the AMPAS than was expected. It clearly has its backing from the members, but these types of films do not win in the screenplay categories.
Oscar Doppelganger: Winter's Bone, 2010. It has a similar pedigree and ultra-indie style film with a Best Picture nom. It had almost no chance of winning in the category due to the heavy favorites in the category.
Odds of winning: 250/1
4. Life of Pi (David Magee)
Notable awards: Satellite
Notable nominations: BAFTA, BFCA, Golden Globes, USC Scripter, WGA
Case for the Oscar: David Magee is a previous nominee (Finding Neverland). His film is pure Oscar bait, and there is a small chance that it could go all the way in several categories. It is not really a screenplay achievement, but if it is going to have a chance in the major categories, then this is probably the least consequential award it could throw its way. I like the film's chance in Director more than Screenplay.
Oscar Doppelganger: Gladiator, 2000. It was a visual spectacle, yet only a decent achievement in screenplay. It looks and feels like a major Oscar contender, but there are a couple clear frontrunners in the category that prevent it from taking home the screenplay award.
Odds of winning: 80/1
3. Silver Linings Playbook (David O. Russell)
Notable awards: BAFTA, National Board of Review
Notable nominations: BFCA, Golden Globes, Spirit Awards, USC Scripter, WGA
Case for the Oscar: The Weinstein factor is definitely prevalent here. Unless there is an unforeseen sweep for the film, this is its best chance to award David O. Russell for the first time. His speeches and appearances in interviews have been heartfelt and emotional. It is the story of his son, and that connection could pull a lot of votes for him. The material is total Oscar stuff, even more so than the films in front of it. These are the kinds of films that win.
Oscar Doppelganger: Precious, 2009. It was a great surprise on Oscar night when it won the award over the heavy favorite Up in the Air. It was the best chance to award the filmmaking of the indie that was all the talk around awards time but was stuck behind a couple unstoppable forces.
Odds of winning: 4/1
2. Lincoln (Tony Kushner)
Notable awards: Boston Critics, BFCA, Chicago Critics, National Society of Film Critics, New York Critics
Notable nominations: BAFTA, Golden Globes, USC Scripter, WGA
Case for the Oscar: It seemed as if there was no chance that it could lose a couple weeks ago. The screenplay is the movie, almost coming off like a stage play. It is very sophisticated and not really a typical winner, but one that should be awarded for keeping our attention for 150 minutes of dialogue.
Oscar Doppelganger: Good Night , and Good Luck, 2005. The styles are similar, being backboned by the dialogue-heavy script. It pretty much dominated awards season until one film rose up at the last minute and took its award. Lincoln's chances are slightly better, though.
Odds of winning: 2/1
1. Argo (Chris Terrio)
Notable awards: Los Angeles Critics, USC Scripter
Notable nominations: BAFTA, BFCA, Golden Globes, WGA
Case for the Oscar: It is the overwhelming favorite for the top prize, so unless it is going to be the second film ever to take that without any other wins, then this is its best chance for another award. The script is tight and complex. The Scripter award has correlated with the Oscar every year since 2007. There are easier films to award in contention, and an "upset" would not be all that unexpected. However, at this point (WGA result pending), it is the one to beat.
Oscar Doppelganger: Breaking Away, 1979. This is a bit of a stretch, but what Argo has done is unprecedented and impossible to find a similar case. This is a terrific screenplay that took home the award against several more easily-digestible Oscar movies, including a courtroom drama and a lovable comedy-drama. It is probably the favorite to win, but it is by no means a significant favorite.
Odds of winning: 3/2
BEST ORIGINAL SCREENPLAY
This category has taken quite a few shifts throughout awards season. Early on, it appeared that Zero Dark Thirty was going to be a slam dunk winner. Django Unchained's buzz has come and gone and come back again. Amour continues to defy the odds and garner more buzz and accolades. This is always one of the coolest categories at the ceremony.
5. Flight (John Gatins)
Notable awards: none
Notable nominations: BFCA, WGA
Case for the Oscar: This film stands almost no chance of winning. It is a great story, but the script is sort of sloppily-written. It does have some great characters, and the film did really well at the box office. Gatins is an interesting guy, and his
roller coaster ride to the Oscar ceremony
is really a great story. A win would be one of the biggest shockers in recent memory, but never underestimate the popularity of Denzel Washington.
Oscar Doppelganger: The Color of Money, 1986. This is another commercially-popular movie with a nominated lead performance and directed by a major director. The movie was never really looked at as one of true quality, but it did receive some love from awards. The screenplay nomination is odd and had no chance going in, even though the main contenders were not exactly juggernauts.
Odds of winning: 350/1
4. Moonrise Kingdom (Wes Anderson, Roman Coppola)
Notable awards: none
Notable nominations: BAFTA, BFCA, Spirit Awards, WGA
Case for the Oscar: Wes Anderson movies are always among those films that are so quirky and interesting, yet they just cannot appeal to everyone. This film is his most conventional, which makes me think that this could be the film that the Academy could reward him for. These coming-of-age stories are not too popular in terms of winning screenplays, but the nominations are common. If there is a shock winner in either screenplay category, it could and should be this.
Oscar Doppelganger: Full Metal Jacket, 1987. The movie was made by a master of misunderstood and niche filmmaking. After a host of popular and nominated films, he made his most accessible movie yet. Screenplay was the film's sole nomination, and while its chances of winning were slim, it may have been the best chance that its writer had at it.
Odds of winning: 50/1
3. Zero Dark Thirty (Mark Boal)
Notable awards: Chicago Critics, Satellite
Notable nominations: BAFTA, BFCA, Golden Globes, WGA
Case for the Oscar: Mark Boal is a past winner, and there still may be some leftover love for The Hurt Locker. This film is so thickly researched and thrilling, and at least in my eyes, almost all of that credit should be given to Boal. His film missed out on a Best Director bid, which dampens the support for the film a bit. This screenplay is one of the contenders still, and I would not be shocked at all to hear it called on Oscar night.
Oscar Doppelganger: Crimes and Misdemeanors, 1989. After winning the Oscar, a few years later he is again invited to the ceremony with another huge success and brilliant screenplay. All of the main Best Picture contenders were in the Adapted category, so original could have gone to almost anything. The Academy may have wanted the writer to wait a little while for another award.
Odds of winning: 6/1
2. Django Unchained (Quentin Tarantino)
Notable awards: BAFTA, BFCA, Golden Globes
Notable nominations: none
Case for the Oscar: It has been almost 20 years since Tarantino has won his Oscar, despite being perhaps the most popular American filmmaker working today. He was taken down by Mark Boal in 2009, and if he loses this time, then it will be like a Hilary Swank-Annette Bening type of rivalry beginning to brew. Django has the important wins so far, and since it was ineligible at the WGA, he won't have to worry about losing steam there. Almost any other time, he would be the favorite. There is just one film ahead that has even more support than Tarantino's blockbuster.
Oscar Doppelganger: As Good As It Gets, 1997. James L. Brooks won his Oscar more than a decade before, and this was his best chance to take home a second for screenwriting. He was up against a film that didn't really have the awards or expectations as his film, but it had more overall Oscar support and wound up taking home the prize in what had to be an achingly close vote.
Odds of winning: 5/2
1. Amour (Michael Haneke)
Notable awards: none
Notable nominations: BAFTA
Case for the Oscar: Michael Haneke's films have been revolving around the Oscars for a while now, but this is easily his most accessible movie. The film has nominations in every major category that he could ask for, so we know the support is great. Despite being the no-brainer for Foreign Film, this is the category that the Academy can really show their support for the film and Haneke's work on it. The other two realistic contenders are past winners, and Haneke got his first nominations this year at age 70. It would seem as if it is his turn.
Oscar Doppelganger: Talk to Her, 2002. If there had been the rules there are now back in 2002, then these cases would be identical. Almodovar's film was up against a couple highly-touted writers, but his beautiful and heartbreaking film took home the award, the first for a foreign film since 1966. Look for something similar to happen. It may seem like an upset on paper, but given the situation and huge love for Amour, I am almost expecting it.
Odds of winning: 2/1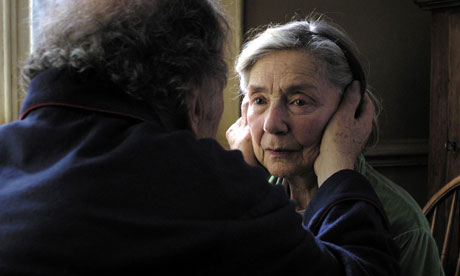 So, what do you think? What are your doppelgangers? Request me other non-Big 8 categories if you need more help with the
OSCAR CHALLENGE
. Stay tuned in the next couple days for my breakdown of Best Supporting Actress.