2013 was a year that had very few (if any) masterpieces, but there were many films that I would consider great. I have no issues with the films nominated by the Academy, but they missed out on some of the truly remarkable independent movies that are represented in my top films. Check out my breakdown of the year below, followed by my current top 10 of 2013:
Films seen: 85
Thumbs up percentage: 54.12%
Actor of the year:
Matthew McConaughey, 2
nd
consecutive year (
Dallas Buyer's Club
,
Mud
,
The Wolf of Wall Street
)
Actress of the year: Rooney Mara (Ain't Them Bodies Saints, Her, Side Effects)
Best Actor: Michael Jordan – Fruitvale Station, Leonardo DiCaprio – The Wolf of Wall Street, Joaquin Phoenix – Her, Ethan Hawke – Before Midnight, Robert Redford – All Is Lost
Best Actress: Elle Fanning – Ginger & Rosa, Julie Delpy – Before Midnight, Brie Larson – Short Term 12, Sandra Bullock – Gravity, Greta Gerwig – Frances Ha
Best Supporting Actor: Casey Affleck – Out of the Furnace, James Franco – Spring Breakers, Jonah Hill – The Wolf of Wall Street, Michael Cera – Magic Magic, Michael Fassbender – 12 Years a Slave
Best Supporting Actress: Annika Wedderkopp – The Hunt, Scarlett Johansson – Her, Rachel Boston – It's a Disaster, Kristin Scott Thomas – Only God Forgives, Mary Elizabeth Winstead – The Spectacular Now
Best Original Screenplay: Her, Nebraska, The Place Beyond the Pines, Inside Llewyn Davis, Drinking Buddies
Best Adapted Screenplay:
Before Midnight
,
The Wolf of Wall Street
,
The Spectacular Now
,
Short Term 12
,
12 Years a Slave

Most underrated film:
The Place Beyond the Pines
Most overrated film:
Saving Mr. Banks
Biggest surprise:
Side Effects
Biggest disappointment:
Out of the Furnace
Best ensemble casts:
Her
, Drinking Buddies, The Wolf of Wall Street, The Place Beyond the Pines, Prisoners
Bottom five of the year (from bad to worst): 42, Quartet, Now You See Me, Man of Steel, A Good Day to Die Hard
Most anticipated unseen films: Blue Is the Warmest Color, Dallas Buyers Club, The Great Beauty, In a World…, Philomena, Snowpiercer, The Wind Rises
Others receiving votes:
The Act of Killing
, Ain't Them Bodies Saints, All Is Lost, The Hunt, It's a Disaster
10. Short Term 12 (directed by Destin Cretton)
One of the great under-the-radar movies of the year was Destin Cretton's expansion of his terrific short film. Short Term 12 follows Grace (breakout star Brie Larson), a worker at a foster care facility that watches and guides troubled underprivileged kids. There is a deep heartache and pain in the story, especially as more of Grace's past gets revealed and shows why she is such a committed and caring worker. It features some of the truly elite scenes of the year, chief among them the "So You Know What It's Like" original song by young actor Keith Stanfield, which clearly was the best song of 2013. Short Term 12 is not a movie that will sit well with a lot of audiences since it is so understated and sad, but there is a sense of warmth that we feel following the movie that makes it very rewarding, and in a way, beautiful.
9. The Spectacular Now (directed by James Ponsoldt)
This is a very personal inclusion on this list. I love movies that ooze nostalgia, and this is the best one its kind in several years. James Ponsoldt, who also directed last year's indie gem Smashed, has become a go-to director for independent comedy-dramas. All of his movies thus far have been in some way about alcoholics, but none of them have been as perceptive and meaningful as this one. It is about Sutter (the excellent Miles Teller) and Aimee (Shailene Woodley). They form the most endearing movie couple of the year. Ponsoldt has a knack for creating characters with flaws that we cannot help but care for. Sutter is the hard-partying high schooler, and Aimee is the outcast. They begin an unlikely friendship and form a bond that no one expected, least of all the two of them. In the end of this little movie, we feel undeniably bittersweet, satisfied, and melancholic. It puts sentimentality away and leaves the audience to view this rich and realistic story in all its nostalgia and ordinary beauty. Ponsoldt could be the next Alexander Payne.
8. Inside Llewyn Davis (directed by Joel Coen, Ethan Coen)
This is the best American music film since 2007's indie masterwork Once. The Coen brothers have outdone themselves with this brilliantly detailed and darkly hilarious little film. At no point does the movie try to be popular. It features some of the most unlikable characters the Coens have created, yet, we care all too much. Llewyn Davis (Oscar Isaac) is a struggling folk singer in the 1961 New York, and he lives for his music. He lives his life in the way described in his lyrics. There is no glamour in this story, no happy ending. It is all realism. We drop in on Llewyn's life and watch him navigate the folk scene for a period of time, and we could not be more grateful after the movie is over. It is a remarkable movie and one that only gets better as time goes by. You will be humming the extraordinary soundtrack for the foreseeable future. I was aching to see it again in the days following.
7. Gravity (directed by Alfonso Cuaron)
There was no greater movie miracle in 2013 than Gravity. There were basically just two cast members, and one of them is gone for the majority of the film. We are essentially watching Ryan Stone (Sandra Bullock) floating through space and trying to find any way to survive without any real working communication. It sounds like a short film's premise, but it is edited in a way that creates the most intense movie-going experience of the year. It is also the best use of 3D maybe ever (if not, then #2 behind Avatar). The creativity and imagination that this movie took, as well as the attention to detail makes a movie that would otherwise seem ridiculous feel absolutely involving and realistic. It is one of the truly magical films of 2013.
6. 12 Years a Slave (directed by Steve McQueen)
This is perhaps the only instant classic 2013 film. While watching the long, inspiring struggle of the human spirit in Solomon Northup (Chiwetel Ejiofor), a free man who was drugged and enslaved for 12 years, the audience just feels like they are watching an already polished film classic. Each and every scene is vital to the tone of the story. It is difficult to watch, to be sure. However, there is no more rewarding experience that one can have from a 2013 film. 12 Years a Slave is an important piece of cinema and one that will undoubtedly be looked back on as a crowning achievement of this era.
5. The Place Beyond the Pines (directed by Derek Cianfrance)
This was the biggest surprise masterpiece of 2013. The movie is separated into three segments, and there is a passing of the torch between them. The segments are of course intertwined, but unlike several other movies with this layout, the bridges are not predictable. Each segment sports an astonishing leading performance (Ryan Gosling, Bradley Cooper, Dane DeHaan) and by a seemingly different genre (crime drama via Drive, cop drama via Copland, indie drama via In the Bedroom). The further along the story rolls, the more we get into it and become aware of the fate of the characters. When the end credits start, we realize that 140 minutes have gone by and we still want more.
4. Nebraska (directed by Alexander Payne)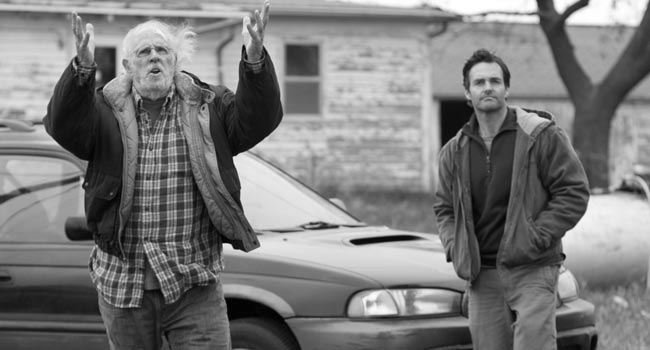 I have a fondness for Payne movies that cannot be overstated. His movies are so realistic and different. I felt like after Sideways that I would never be able to truly be blown away by one of his films, but I was wrong. This movie is one of the purest and painfully funny movies I have seen in years. Payne did not write this movie, but it is one of his movies at its core. It is his finest directed job as well. The black-and-white format takes away all outside factors and just lets the characters be. We are essentially just following Woody Grant (Bruce Dern) and his son David (Will Forte) on an ill-conceived cross-country trek. Road trip movies are common; this one is not. It is written as a sad, depressing drama, yet its flawlessness in developing relatable quirks in the characters is what causes the laughs and makes the movie tick. It may not have the ambition of other films on this list, but it is just about perfect.
3. The Wolf of Wall Street (directed by Martin Scorsese)
Zach and I clearly disagree on this one, but this movie really is a daring and hilarious piece of work. The story is about Jordan Belfort (Leonardo DiCaprio), the scamming leader of Stratton Oakmont, a firm who sells worthless stocks to unwitting consumers, scheming out millions every week. On paper, yes this movie is unappealing. Who wants a true story comedy (or sorts) about criminals who never really get caught or get what is coming to them? Well, that is exactly what Scorsese thought. He focuses in on Belfort, and lets him tell the story. It is frustrating, and it is only hilarious because we want it to. It doesn't play for laughs, but the characters and situations are so outrageous that we can't help but laugh at their expense. It is loaded with drugs, women, and greed. In format and subject, it is nearly identical to Goodfellas. Under normal circumstances, that would bother me. This is not a normal case. It is the most thrilling and unrelenting 3 hour movie I have ever seen.
2. Her (directed by Spike Jonze)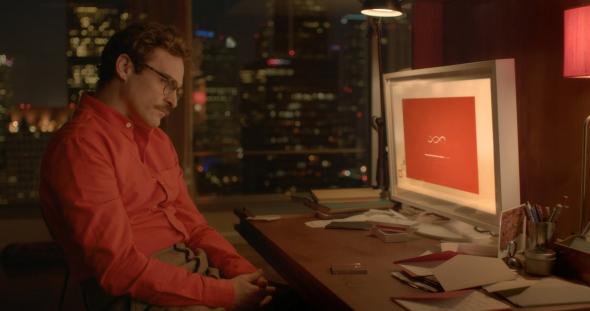 Spike Jonze has made himself an A-list director in just four films. He has a style and subtlety that no one else has. This movie has less Being John Malkovich and Adaptation in its visuals, but there is every bit as much quirkiness and sadness in their stories. Like his most recent masterwork Where the Wild Things Are, this is a passion piece. From the opening shots of the film, we are completely glued to a movie about a man (Joaquin Phoenix) falling in love with his computer operating system (Scarlett Johansson). It sounds strange until you actually see it happen. It could be the next The Truman Show in terms of creating an atmosphere and visionary look at where we are heading as a society. In its comedy, it is equal parts The 40 Year Old Virgin, Punch-Drunk Love, and Eternal Sunshine. There is also a fair amount of Lost in Translation in how the characters and story are treated. It is nothing like any of those, however. It is a complete original, and it just feels like a landmark piece of cinema.
1. Before Midnight (directed by Richard Linklater)
Unless something drastic happens in the next couple months of 2013 video releases, then this will remain my #1 of the year. Like the previous two installments in this series (1995's Before Sunrise, 2004's Before Sunset), this film is strictly dialogue. Even more so than its predecessors, Midnight could not exist without the previous ones. Every word of it is drawing from the bank of passion and commitment that we feel for Jesse (Ethan Hawke) and Celine (Julie Delpy), the two disarming main characters of this decades-long romantic saga. This film is not as much about broken hearts and charming romances; this one is relaxed. At least it feels that way right up until our two protagonists are alone. The entire third act is in a hotel room, and it contains the most brilliant, devastating, heated conversation I have ever seen in a movie in recent memory. It has all the makings of a title bout without a single punch thrown. The audience is left on edge and inevitably begging for more after it is over. Please, Mr. Hawke, Mr. Linklater, and Ms. Delpy…give us more in 2022. I am already making arrangements for seeing it on opening night.
Thoughts? Your top 10? Anyone else adore Jesse and Celine like I do? Comment below…